AOMA 100th Annual Convention
PLEASE NOTE: WE ARE AT A NEW LOCATION FOR  2022!
The Embassy Suites by Hilton Scottsdale Resort

5001 N. Scottsdale Road, Scottsdale, Arizona 85250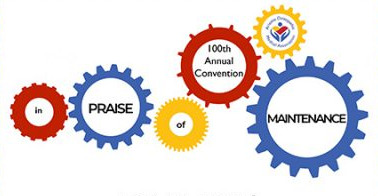 Innovation and invention improve our lives, but there is a need
and nobility in taking care of what we have already created.
It's been three long years since we have gathered in person for the AOMA Annual Convention at the Embassy Suites in Scottsdale Arizona. We are ready to come together to celebrate the resiliency and courage of our health care colleagues! Because it's not just about the continuing medical education – come for the live interaction, the networking, the camaraderie, and the food!
If you plan to join us in-person, please review our 100th Annual Convention Health & Safety Policies and Protocols here before you register.
**All registrants for the in-person live event will receive complimentary access to posted recordings of main hall lectures after the conclusion of the Convention. Anticipated date of availability is April 18, 2022.**
Although we would love to see and connect with you in person, we realize that may not be feasible (or preferable) for all. So, in addition to the AOMA 100th Annual Convention taking place in-person March 30 to April 2 at the Embassy Suites in Scottsdale, Arizona, AOMA will record the live presentations and offer two on demand lecture bundles to meet your CME needs.
While we will miss you at the live event, we are committed to delivering the high-quality, cost effective continuing medical education that you expect from AOMA.
LIVE IN PERSON EVENT

MARCH 30 TO APRIL 2, 2022
ON DEMAND CME BUNDLES
AVAILABLE BEGINNING
APRIL 18, 2022
 FOUR-DAY REGISTRATION (WED-SAT)
MAXIMUM 37.5 CREDIT HOURS ( 30.5 hours of live in person and 7 hours to view on your own.)  including 3.0 hours of opioid prescribing/pain management
MEALS! 4 breakfasts, 4 lunches, 1 dinner plus breaks
Book your Hotel Suite Today – Click Here 
ENCORE BUNDLE
MAXIMUM 34.5 CREDIT HOURS including 3.0 hours of opioid prescribing/pain management
90-day access for completion of credits
TWO-DAY REGISTRATION (FRI & SAT)
MAXIMUM 20.0 CREDIT HOURS ( 14 hours of live in person and 6 hours  to view on your own.) including 3.0 hours of opioid prescribing/pain management
MEALS! 2 breakfasts, 2 lunches, 1 dinner plus breaks
Book your Hotel Suite Today – Click Here 
GREATEST HITS BUNDLE
MAXIMUM 20.0 CREDIT HOURS including 3.0 hours of opioid prescribing/pain management
90-day access to view and complete attestation
In-Person Event – Three Types of Credits
AOA Category 1A
AMA PRA Category 1 Credits™
AAFP Prescribed Credits
On-Demand – Two Types of Credits
AOA CATEGORY 1A
AMA PRA Category 1 Credits™
Live in person Convention highlights:
Wednesday
Opening General Session: Osteopathic Medicine – Right Approach for Challenging Times Karen Nichols, DO, MA, MACOI, FACP, CS-F
Door Prizes
Thursday
Alumni Receptions
Door Prizes
Friday
AzACOFP Annual Meeting & Awards Luncheon
Family Practice Topics
House of Delegates
Door Prizes
Exhibitors
Saturday
Clinical Case Presentation
Poster Forum
Residents Workshop
Stump the Doc Medical Student Knowledge Competition 
Door Prizes
Exhibitors
AOMA Awards Dinner